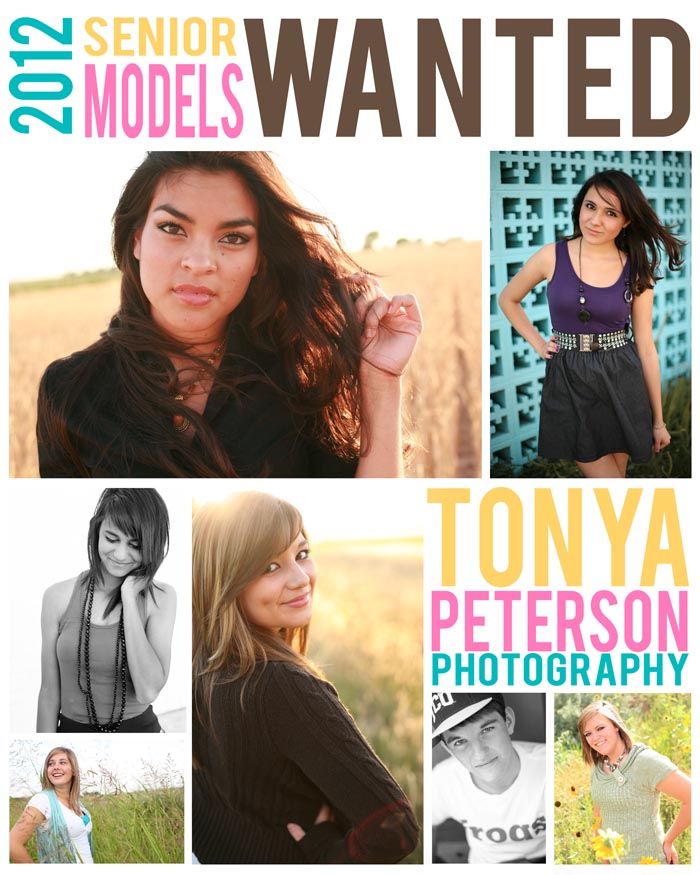 Attention all 2012 Seniors!  We want you to be our Senior 2012 Models!  We are currently looking for students in the Salt Lake Valley and Uintah Basin high schools to act as representatives for Tonya Peterson Photography.
Who Can Apply?
If you are currently a junior graduating in the class of 2012, we want you! Being one of our models is easy.  By becoming a model you receive cool perks like FREE session(s), bonuses and products. All you have to do is tell your friends, classmates & family how much fun you had during your session and share your amazing portraits! You don't have to be a size zero, on your way to the catwalk, super model to be one of our models…we just want fun, energetic and outgoing seniors that will get others excited too! We will only be hiring 1-2 Senior Models from each school so fill out your application now! To apply is simple, just complete our online application found at the bottom of this page. We will evaluate all applications to see if you are a good fit. Selected Models will be notified by phone or email with more information.
Deadlines for applications is July 15th so hurry!  If you know someone that would be interested in doing these please let them know!
Which High Schools Are You Selecting Senior Models From?
Right now we are planning on selecting 1-2 Senior Models from all of the high schools in the Salt Lake and Basin area! If you live outside of SLC or the Basin but would like to be considered for a Model position please apply.
What I Get For Being A Senior Model?
All of our senior models will receive at least one free photo session.
Photo sessions that are designed completely around you.  No cookie cutter pictures here.  Every session we do will be different and unique to you.
unlimited model referral cards to pass out to your Class of 2012 friends.  Every time one of your referrals calls and books a session with us you earn a 10 dollar print credit.  Easy as pie!
The opportunity to earn even more free stuff including a flip video camera, an iPad or even a Mac Book Laptop!  The more you refer the more you get!
How Does This "Earning Free Stuff" Work?
It is pretty easy.  We have different tiers for earning free stuff.  The more people you refer that book us, the bigger the prize you can earn!  We will email you the details if you are chosen as one of our models.
If I Am Hired As One Of Your Models, When Do We Shoot the Session?
If we feel like you would be a good fit we will do your session in the early summer.  That way you will have all summer and fall to recruit your friends!
The Fine Print. What Do I Have To Do To Be a Model?
Hand out your rep cards to potential clients interested in booking sessions.
It does not cost anything to be a senior model. In the end you will only pay for prints you would like to purchase.
You will be representing Tonya Peterson Photography all year so we ask that you actively promote us all year. We rely on you and you will be rewarded for working hard!
You must complete your full portrait shoot before August 1st 2011.
You must have your Parent or Guardians permission to participate in our Modeling program.  Both you and your parent/guardian must sign our portrait contract.
Please be sure to complete the entire Model Application. Take your time and fill it out like you would a job application. We are really looking for models you are fun, outgoing and motivated, so use some of your personality while filling out the form.  Upon submitting the application we will evaluate and notify you if we feel you will be a good fit for representing our studio. We unfortunately can't hire everyone as one of out models and do reserve the right to refuse applicants that we feel are not a good fit.
To apply to be a model please click HERE.  Good Luck and remember applications must be in by July 15th!!! We will announce our new models on July 17th.